Click here to view original web page at thegrownetwork.com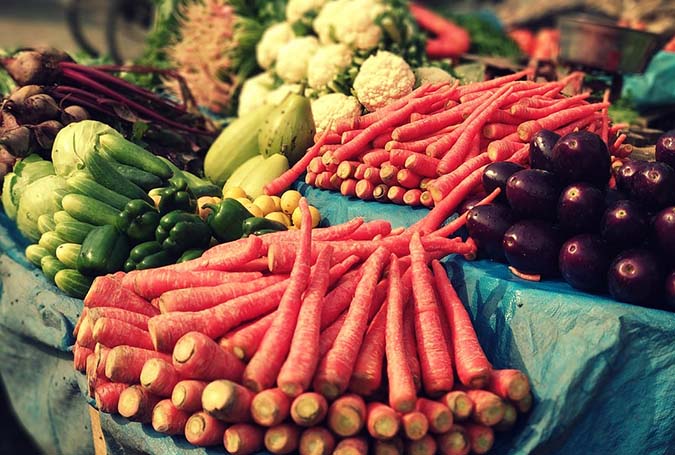 Back in August 2015, I wrote a post about the findings of a joint task force of experts from the U.K. and U.S. The group had released recommendations for Extreme Weather and Resilience of the Global Food System. You can read the original post on food security here:
Read More: "Extreme Weather and Food Resilience for Home Growers"
Quite frankly, that report was pretty scary. It detailed all sorts of reasons why our global food supply was in serious jeopardy. When that report was released in 2015, I had noted how relevant it was in light of a number of catastrophic weather events going on at the time, wreaking havoc on crops and raising food prices in some areas.
Now, just a couple of years later, the situation has become even worse. Hurricanes, mudslides, drought-related fires, disrupted weather patterns, wars, and more have caused crazy fluctuations in food supplies around the world.
In March 2017, the Food Security Information Network (FSIN) released a Global Report on Food Crises 2017.1) In that report, they indicated that the number of people suffering from severe food insecurity had increased by 35% since the release of the 2015 report.
Quite a bit of that lack of food security was related to conflict. However, catastrophic weather events like droughts had also driven up the costs of staple foods, making them unaffordable for large groups of people.
If you think this can only happen in poor, war-torn countries, then consider this. In the U.S. in 2017, there were at least 16 weather events that cost over a billion dollars each and resulted in losses of crops, livestock, and other resources, as well as of homes, businesses, personal property, and lives.2) In 2016, there were 15 of these weather catastrophes; in 2015, there were 9; in 2014, there were 8; and in 2013, there were 9.
It might be too early to say that 15-16 catastrophic, billion-dollar weather events is the new normal for the U.S. However, new data modeling shows that there are real risks that both the U.S. and China might simultaneously experience catastrophic crop losses that could drive up prices and send more countries into food famine in the coming decades.3)
In 2017, due to a weakened dollar, food prices in the U.S. increased by 8.2%.4) That trend hopefully won't continue in 2018, but between weather and world volatility, isn't it better to bank on building your own food security independent of global markets and events?
We think so, too! So, we want to give you some ideas to help you build your own food security at home.
Food Security Recommendation #1: Understand Your Risks
Building on the ideas from our earlier post on "Extreme Weather and Food Resilience for Home Growers," it's really important to know the risks for your area and plan your gardening practices to be resilient even when disaster hits.
Many governments and global non-governmental organizations have made predictive models for the likely regional effects of climate change available. You can use these models to identify trends in your area. Here are a few example models available:
Even if you don't live in one of these areas, a quick Internet search for "climate change impacts" for your area should give good results. This search may link to articles about impacts as well as to modeling tools. Focus on search hits from government or academic websites for more comprehensive, peer-reviewed climate change data.
Food Security Recommendation #2: Consider Using Permaculture-Based Landscape Design
There have been so many weather-related disasters recently that it is hard to know what to prepare for anymore. In California, extreme dry weather and winds made for a devastating fire season. Then, the loss of vegetation from the fire season led to severe mudslides during torrential rains. Parts of Australia have also been suffering similar catastrophic cycles of drought and flooding.
In Western North Carolina where I live—a locale that we chose specifically because it is expected to be less impacted by climate change (e.g., sea levels rising, coastal hurricanes, etc.)—we've had extended dry periods followed by heavy rains that led to lots of vegetation losses in our area.
Drought-flood cycles are extremely damaging to plant life. In dry periods, plant roots dehydrate and shrivel. Soil also shrinks from water loss. Then when heavy rains come, the soil and roots no longer have the water-holding capacity they once did. Rather than the rain being absorbed, it sits on top of dry, compacted soils in flat areas, causing flooding. Or it moves downhill, taking topsoil and vegetation with it as it goes, causing mudslides and flash flooding in other areas.
When you use permaculture design in planning your foodscapes, you take into account these kinds of cycles of drought and heavy rain that would otherwise be damaging to vegetation. In fact, you make them work for you. Simple solutions like catching and storing water high on your land can help you better weather the cycles of drought and flood.
By applying permaculture principles, you can help safeguard your food security by making your landscape more resilient to weather extremes and diversifying your food supply to ensure you get good yields regardless of weather.
To get an idea of how permaculture works, check out this tour of Zaytuna Farm given by Geoff Lawton.
Also, if you want a short but powerful introduction to what permaculture can do in extreme landscapes, check out these titles by Sepp Holzer:
Food Security Recommendation #3: Manage Your Microclimates
Every property has microclimates. For example, in North America, it will almost always be a bit warmer along the edges of a south-sloping blacktop driveway. This is because the path of the sun will cast more sun on southern-facing slopes. They are literally like sun scoops, catching its rays.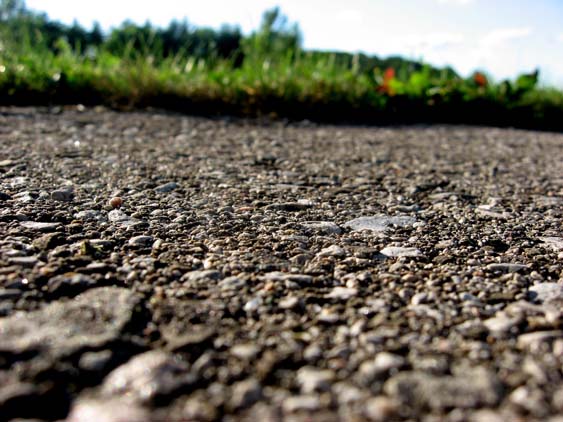 Additionally, dark colors absorb more heat than light colors. If you painted that same driveway white, it would still be warmer due to its southern slope. However, the white paint would reflect light and heat away from the driveway and would keep that same area cooler than with a blacktop driveway.
The physical mass of blacktop asphalt material also acts as a heat sink. It draws in heat during the day and releases it back into surrounding areas as air temperatures cool at night. The same driveway made with light-colored concrete might not absorb quite as much heat as an asphalt driveway due to its color. However, it would still act as a heat sink by virtue of its mass.
The shade of a large oak tree creates a cooler area than the dappled shade of a pruned fruit tree. Large bodies of water will help regulate extreme temperatures. A wide, stone knee wall around a raised bed will insulate the soil inside better than thin wood boards because of its mass. Boulders in your landscape are also heat sinks. Even things like black trash cans can impact temperatures directly around their vicinity.
Gaining a basic understanding of how colors attract light waves, learning how different kinds of mass (rocks, soil, trees, etc.) store heat and divert wind, and knowing the path of the sun at different times of the year in your area can help you use microclimates to moderate the effects of extreme cold and heat. Using your slopes, like north-facing slopes to keep things cooler and south-facing slopes to heat things up, can also help. Working with shade patterns to minimize or maximize sun exposure can help moderate hot and cold temperature extremes.
For example, I live in USDA planting Zone 7a. With the extreme cold weather we've had this year, our conditions were closer to Zone 5. Some of my plants—like rosemary, which is hardy to zone 7—were killed by the cold. After our last risk of frost passes, I plan to replant rosemary bushes in front of our south-facing house and mulch them with dark stones. In that location, even if we have Zone 5 conditions again, my rosemary should make it just because the heat mass from our house and the stones, the southward orientation, and the wind protection give it the right microclimate.
Cold frames, greenhouses, and underground areas (e.g., walipinis) are also good ways to create microclimates on your property to ensure longer and more secure food production in extreme conditions. Check out this post from Marjory to learn about building your own underground greenhouse.
Read More: "Underground Walipini Pit Greenhouse Construction"
Food Security Recommendation #4: Go Big on Organic Matter in Your Soil
If I pour a bucket of water over some of the heavy clay soil in my landscape, water runs off on slopes. In flat or cratered areas, it sits on top, eventually making a big muddy mess that becomes algae-covered if we don't have enough wind or sun to dry it out.
If I pour a bucket of water over the same approximate amount of area in one of my vegetable garden beds, loaded with compost, the bucket of water soaks in. Even on sloped beds, the water sinks and stays put rather than running off.
Soils that are high in organic matter are more porous and spacious than compacted soils.
If you try the same experiment with sand, the water will also soak in as it did in my garden bed. Unfortunately, it won't stay there. Come back a few hours later and that water will be gone, which means it is not stored in the root zone for later use by plants.
Soils that are high in organic matter also preserve moisture better than sandy soils.
In order to hold water in your soil during droughts and catch it during heavy rains, you need a lot of organic matter in your soil. Here are a few easy ways you can up your organic matter quotient at home.
Add compost.
Mulch with things like wood chips, straw, old hay, grass clippings, and mulched leaves.
Plant, then chop and drop cover crops like grain grasses, clover, mustard, or chicory.
Use no-till or minimal till practices and leave decaying roots and plant matter in the soil.
Check out these TGN posts to learn more about these methods.
Adding organic matter not only slows the flow of water in your landscape and sinks it deeper into plant roots, but it actually sinks carbon dioxide, too.
Yes! Building soil that is higher in organic matter can actually help solve our CO2 problem. And solving our CO2 problem will moderate the disastrous effects of climate change and can mitigate future weather extremes. (No, this one answer won't solve all our problems—but if lots of us do it, it will help!)
Food Security Recommendation #5: Remember ABC—Always Be Cover-cropping
Plant roots are like plumbing for your soil. They create little channels that help divert water down into the earth so it can be accessed by the plant and other biological soil inhabitants. By growing something in your soil at all times, you keep those pathways open for water to filter down into the soil.
For annual growing areas, planting cover crops in off seasons is critical. However, even for the rest of your landscape, having some sort of cover crop is necessary for extreme weather resilience.
Many of us grow lawns as our primary perennial cover crop. Traditional lawns, though, are shallow-rooted and do not contribute much to soil health. Growing grasses with deeper root systems like perennial rye and other prairie- or meadow-type grasses can be even more beautiful and give you deep roots to help sink water further into your soil.
Using vegetative perennials (i.e., that die back in the winter) with expansive root systems is also a great way to prevent soil erosion and build biomass in your landscape. Yarrow, Russian comfrey, curly dock, burdock, vetches, and even invasives like mints are useful for covering bare soil in a hurry. Since these plants lose their leaves each year and can be heavily pruned in the growing season, they make great green manure or mulch plants, too. Tap-rooted trees like black locust and paw paw also drill water and air down deep into your soil.
In addition, having a continuous cover of plants (or leaves from those plants) keeps your soil cooler on hot days and warmer on cool days. This protects all the biological life in your soil like bacteria, fungi, worms, and more so that they can work year-round. Their continued hard work means that your soil will get better year after year so that your plants will have more disease resistance and resilience during bad weather streaks.
Bare soil = No biological life = More pests, more diseases, and greater weather sensitivity for your plants

Covered soil = Year-round biological workers = Healthier plants better adapted to your weather extremes
If you are willing to do the research and the work, there are plenty of things you can do to mitigate your risks from a changing climate and more volatile weather patterns. These ideas are barely the tip of the iceberg (which is lucky for us since glaciers are now melting at an alarming rate)!
What about you? What other ways are you safeguarding your food security against extreme weather patterns?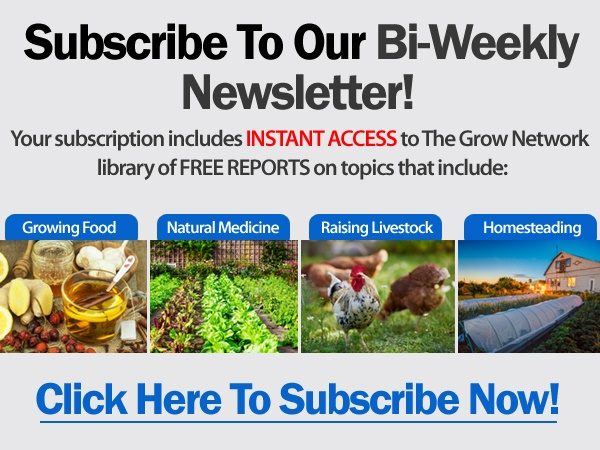 The Grow Network is a participant in the Amazon Services LLC Associates Program, an affiliate program designed to provide a means for our team to earn fees for recommending our favorite products! We may earn a small commission, at no additional cost to you, should you purchase an item after clicking one of our links. Thanks for supporting TGN!
Tasha Greer is a regular contributor to The Grow Network and has cowritten several e-books with Marjory Wildcraft. You can follow her ABCs of Homesteading Series on the Mother Earth News homesteading blog; read her reLuxe renderings; or find her at the Surry County, North Carolina, seasonal farmers' markets, where she sells hand-processed duck, plants, herbs, and other edibles raised at the reLuxe Ranch.
| | | |
| --- | --- | --- |
| 1. | ↑ | http://www.fao.org/3/a-br323e.pdf |
| 2. | ↑ | https://www.ncdc.noaa.gov/billions/events/US/2017 |
| 3. | ↑ | https://www.theguardian.com/environment/2017/jul/15/climate-change-food-famine-study |
| 4. | ↑ | https://www.thebalance.com/why-are-food-prices-rising-causes-of-food-price-inflation-3306099 |
thegrownetwork.com