Click here to view original web page at www.houzz.com
Hi Jumoke,
Congrats on your new house!
Tell mama that first of all, security bars need to be inside, not outside in order to really be effective. Not hard for a pro to cut right through that if it's on the outside.
Then, when on the inside, it needs to to be folding in order to pass a fire/emergency inspection as your window is an egress. A first responder may need to access your home per that window and precious minutes are lost.
I think it's lovely that your mom is concerned and old school. In the end, we found that bright sensor lights hung very high did the trick.
Here is a pic from our old cottage that we had years ago in NYC.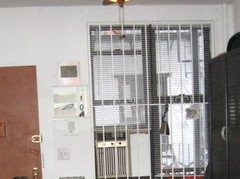 www.houzz.com