Click here to view original web page at www.wlky.com
Family members say five guns were in safe stolen from garage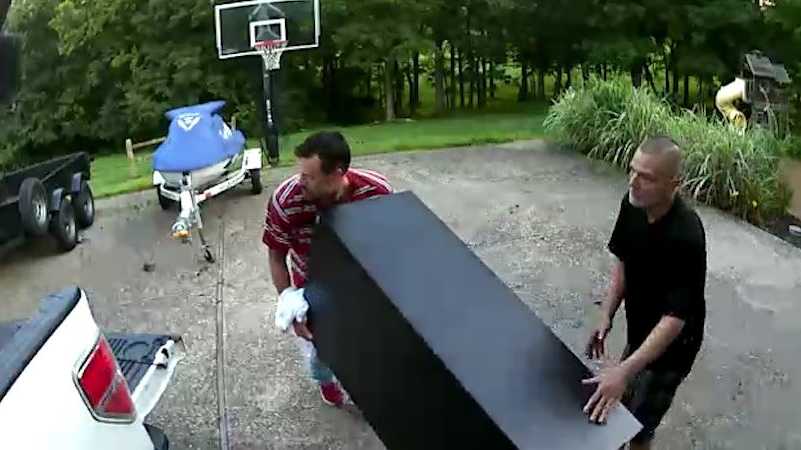 CRESTWOOD, Ky. —
An Oldham County homeowner is hoping home security video will help police make an arrest.
The homeowner said two men broke into his garage and stole a safe full of guns.
Jason, who asked to be identified by his first name only, said he got an alert on his phone from the security system.
"You pull up the video instantly and we were able to see people that didn't belong here," he said.
Jason said he and his family had left their Crestwood home Tuesday around 6:50 a.m.
Within a few minutes, he said the security system sent the alert.
"We saw them taking out a safe," Jason said. "A rather large safe. That was the only thing we saw them take."
The homeowner said several of the guns inside were family heirlooms.
"Some of which were gifts from my father that were traced back to my grandfather," he said.
The homeowner said he was able to provide detectives serial numbers for three of the five stolen guns.
Home security video shows a man in a red shirt pulling the safe out of the garage.
A man in a black shirt is seen helping him.
"We thought we had possibly left the door open," Jason said. "But when we got home, we could tell that they had pried their way in the side door and then kicked it the rest of the way in."
The deadbolt is in pieces and the inside of the door is held shut by a piece of wood.
The family is in the process of moving and feel they may have been targeted by the men.
"It certainly feels that way," Jason said. "Given how fast they showed up after we left and knowing that we have been selling items in preparation for the move. Quite a few different families toured the home as it was for sale. It certainly feels that we were targeted."
Police said the investigation is ongoing and no arrests have been made.
Anyone with information can call the Oldham County Police Department at 502-222-1300.
www.wlky.com