Click here to view original web page at seekingalpha.com
Summary
Fortune Brands Home & Security has agreed to acquire Fiberon for $470 million.
Fiberon sells composite outdoor decking, railing and fencing products.
FBHS is smartly expanding its Doors & Security division with Fiberon's higher growth product line addition.
Members of our private investing community, IPO Edge, get our best ideas and insights. Get started today >>


Quick Take
Fortune Brands Home & Security (FBHS) has announced it has agreed to acquire Fiberon for $470 million.
Fiberon designs and manufactures wood decking, railing, and fencing products.
FBHS is expanding its Doors & Security division with the faster-growing Fiberon as it seeks to take advantage of changing preferences among customers for outdoor home products.
Target Company
New London, North Carolina,-based Fiberon, formerly known as Fiber Composites, was founded in 1997 to design, manufacture and commercialize wood-alternative decking, railing, and fencing products for outdoor living applications.
Management is headed by President and CEO Doug Mancosh, who was previously President and CEO at Guardian Building Products.
Below is an overview video of some of the company's latest offerings:
(Source: Fiberon)
Fiberon's primary offerings include:
Decking
Railing
Terrace Fasteners
Composite Cladding
Terrace Design Tool
Build it yourself
Market and Competition
According to a market research report by Transparency Research, the composite decking market "continues to gain industry momentum, as outdoor living projects remain a high priority for homeowners when considering renovation projects."
The main drivers for this growth are the recovery in the residential housing market in the U.S. and the desire to replace "old-fashioned decking materials with uncapped and capped composite decking products."
The U.S. decking market is estimated to be approximately $2.5 billion according to Fortune Brands management.
Major competitive vendors that provide composite materials include:
TimberTech
Trex Company
Advanced Environmental Recycling Technologies
UPM Biocomposites
TAMKO Building Products
Universal Forest Products
Axion International
Integrity Composites
Green Bay Decking
Acquisition Terms and Rationale
Fortune disclosed the acquisition price as $470 million. Management didn't disclose terms.
Fiberon posted $200 million in annual sales in 2017, so the deal is being valued at a price/sales multiple of approximately 2.35x.
From the deal, management expects accretion to earnings of 5 - 6 cents in 2019 and 9 - 10 cents in 2020.
A review of the firm's most recent 10-Q filing indicates that Fortune had $346 million in cash and equivalents and total liabilities of $3.5 billion as of June 30, 2018.
Free cash flow during the six months ended June 30, 2018, was $70.1 million.
Management didn't say whether or to what degree it may need to take on additional debt to fund the deal, or whether stock will be issued as part or all of the transaction consideration.
Fortune is acquiring Fiberon to expand into the outdoor performance materials market in the U.S.
As Chris Klein, CEO of Fortune Brands, stated in the deal announcement,
The acquisition of Fiberon provides exciting category expansion and product extension opportunities for our Doors & Security segment into the outdoor living space — one of the fastest-growing areas of the home. Fiberon brings leadership in performance materials sustainably made in the U.S.A. from recycled materials. Similar to Therma-Tru's leadership in advanced material doors, Fiberon has built its business in the most attractive segment of the decking category– non-wood, capped composites.
In the past 12 months, FBHS' stock price has been volatile and has dropped by 12.9% vs. the S&P 500 Index' gain of 13%, as the chart below indicates: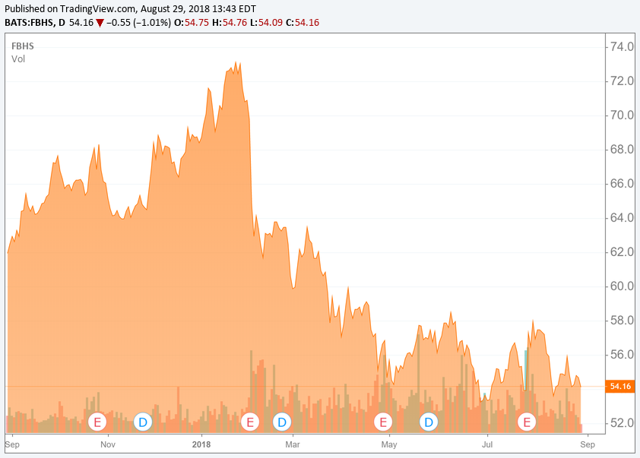 (Source: Seeking Alpha)
Since the deal announcement, the stock has been unchanged, so investors appear to be unimpressed with management's bold acquisition.
Fortune sees the outdoor decking market as a "critical part of outdoor living spaces with growing conversion to non-wood materials...growing at nearly 10% annually...this exceptional growth is driven by demand for innovations in finishes, textures, colors and styles coupled with low maintenance and lasting durability versus traditional wood."
So, management wants to combine Fiberon with its existing Doors & Security segment so it can take advantage of pushing the new product lines through its existing distribution channels.
Fiberon will contribute $200 million in annual sales and be accretive to earnings in the first full year of ownership.
I'm a bit mystified as to why the stock is unchanged. I view the deal as a potential win for FBHS. While not cheap at 2.35x sales, it isn't unreasonable given its 10% growth trajectory, which is certainly faster than that of FBHS overall.
Management appears to have identified a strategic and relevant expansion of its core focus and the deal makes sense to me. Perhaps investors will see the same in near-term quarterly results.
Thank you for reading. I focus most of my time on IPOs. If you're interested in investing smarter in IPOs, you should check out IPO Edge.
Disclosure: I/we have no positions in any stocks mentioned, and no plans to initiate any positions within the next 72 hours.
I wrote this article myself, and it expresses my own opinions. I am not receiving compensation for it (other than from Seeking Alpha). I have no business relationship with any company whose stock is mentioned in this article.
seekingalpha.com