Click here to view original web page at www.independent.co.uk
A large group of Central American refugees and migrants in the caravan which is travelling through Mexico towards the US in the hopes of seeking asylum has arrived in Mexico City.
More than 1,000 Central Americans, many who are fleeing gang violence and financial hardship in their home countries, took temporary shelter at a sports stadium where the city's government had set up medical aid and food kitchens on Sunday.
Ahead of the US midterm elections on Tuesday, Donald Trump has repeatedly warned about the advance of the caravan and ordered thousands of troops to the Mexican border.
It is unclear which part of the US border the caravan will eventually aim for, or how many may splinter off to reach the US on their own.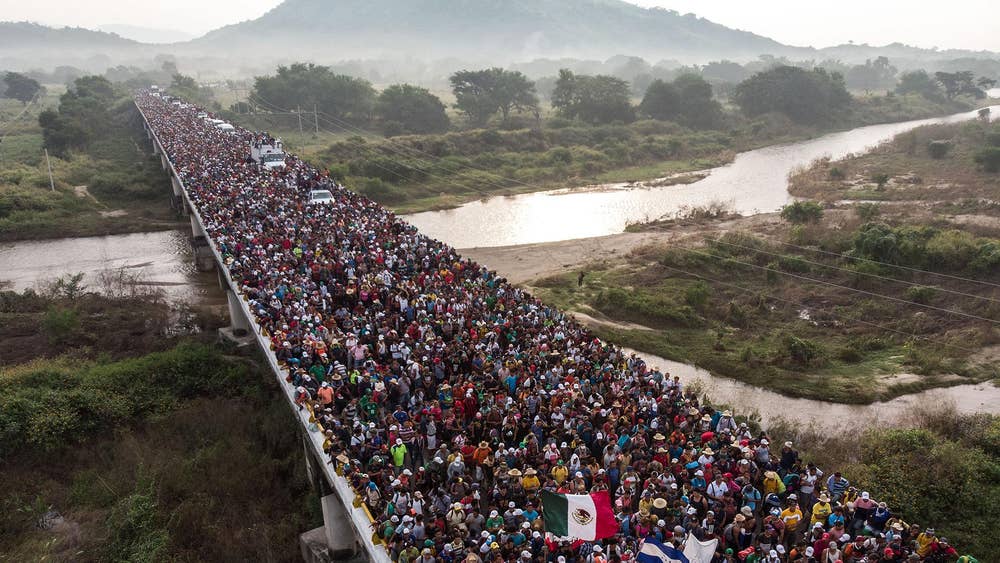 The migrants arrived in the capital, which sits nearly 500 miles (805km) from the nearest border crossings into Texas, four weeks after setting out from the Honduran city of San Pedro Sula.
Thousands more Central Americans were moving in groups in the Gulf state of Veracruz, the central state of Puebla and in the southern state of Chiapas, local media reported.
President Trump's administration has pressured Mexico to halt the advance of the migrants and Mexico's president, Enrique Pena Nieto, has offered temporary identification papers and jobs if they register for asylum in the southern states of Chiapas and Oaxaca.
On Saturday, Mexico's government said it was processing nearly 2,800 asylum requests and that around 1,100 Central Americans had been deported.
Most of the migrants in the caravan have said they are convicted that travelling in a large mass is their best hope for reaching the US.
Mexico currently faces three migrant caravans stretched over 300 miles (500km) of motorway in the states of Chiapas, Oaxaca and Veracruz.
The largest group was the first to enter Mexico, and it has been followed by a group of about 1,000 that crossed over from Guatemala last week and a second of about the same size that waded over the Suchiate River on Friday.
Mexico's Interior Ministry estimated over the weekend that there are more than 5,000 migrants in total currently moving through southern Mexico via the caravans or in smaller groups.
The ministry said 2,793 migrants have applied for refugee status in Mexico in recent weeks and around 500 have asked for assistance to return to their home countries.
Mr Trump plans to sign a presidential order that could lead to the large-scale detention of migrants crossing the southern border and bar anyone caught crossing illegally from claiming asylum.
Additional reporting by agencies
www.independent.co.uk