Click here to view original web page at www.cepro.com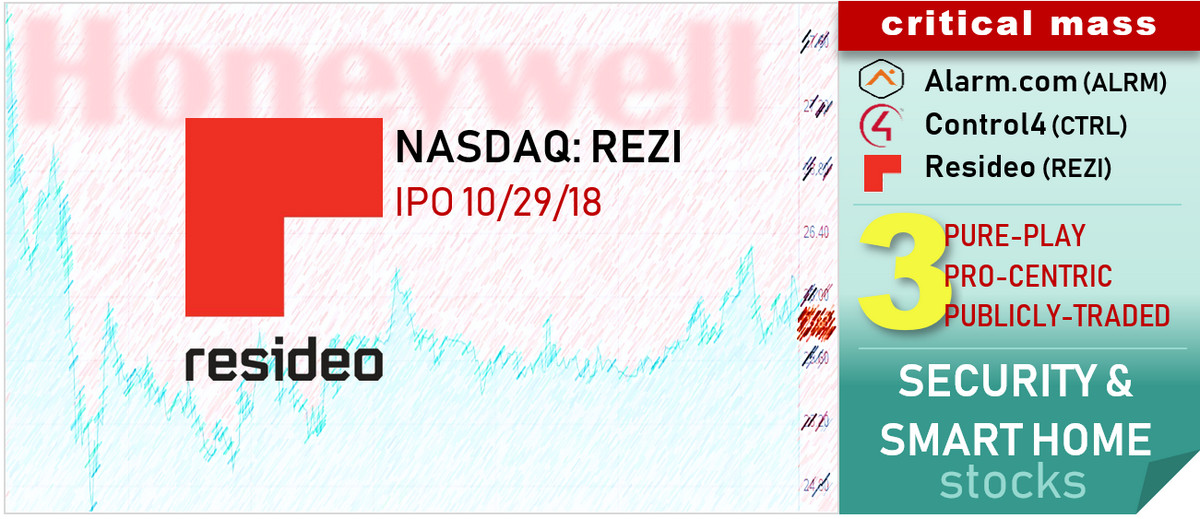 Facebook
Twitter
Google+
Pinterest
LinkedIn
Alarm.com (ALRM) and Control4 (CTRL) used to be the only pure-play, pro-centric security and home-automation companies on the U.S. stock market. Now comes a third publicly traded competitor, Resideo (NYSE: REZI), the Honeywell spinoff that went public on Monday, Oct. 29.
A trio probably qualifies as a critical mass of companies dedicated to professionally installed and monitored smart-home and security systems. With the onslaught of DIY systems that were "so easy your grandmother could do it," the home-tech "channel" was supposedly dead when Control4 launched a successful IPO in 2013.
Alarm.com, the SHaaS (smart home as a service) provider whose dealers charge $25 to $75 per month for monitored security and remote smart-home management, was a dinasour: "Everyone monitors their own systems for free," they all said when Alarm.com went public in 2015.
RELATED: How Much is Alarm.com Worth? Establishing IPO Valuation
Investors rewarded both companies then, and continue to do so today -- not without some dips along the way.
Resideo didn't fare quite as well as Control4 and Alarm.com on REZI's first day of trading Monday, but at least the home-technology industry will for the first time have a good gauge of market sentiment with a trio of like-minded public companies.
From an opening price of $28, REZI hit the market Monday at $27.85 and ended the IPO day at $25.83, down $2.03 or $7.29%, with some 30.4 million shares traded.
The stock fell further after hours to $25.05, on volume of 11.5 million.
REZI vs. CTRL vs. ALRM
Was it just a bad day for the stock market in general? Technology stocks? Pure-play home automation stocks?
Not really. True, most major indicators were down on Monday, but not by 7.3% (to be sure, an unfair comparison for an IPO stock).
Control4 dropped 0.76% Monday. Alarm.com fell 1.78%.
Performance of all three stocks in aggregate will indicate Wall Street's sentiment towards professionally installed, integrated, monitored, and supported home-technology systems.
Both competitors are very similar to Resideo, offering residential security and home-automation products and services primarily to professional installers, and in some cases the DIY sector.
RELATED: Control4 Up 25% on First Day of IPO; How Did They Get There?
All three companies -- now that Resideo has split from the diversified Honeywell -- are mainly focused on the residential/consumer sector, with little focus on, or penetration in, the commercial/industrial sectors.
Performance of all three stocks in aggregate will indicate Wall Street's sentiment towards professionally installed, integrated, monitored, and supported home-technology systems.
As such, we will refer to these three public companies going forward as the CEPro Home-Tech CORE in our stock-market tracking. 25-year-old CE Pro, an Emerald Expositions company, is the leading media company for home-technology professionals, including system designers, installers, specifiers and service providers.
The other stocks tracked by CE Pro touch on many elements of the CORE group, but diverge in various ways: Their residential security and home-automation business might be overshadowed by commercial/industrial interests (as with Honeywell, REZI's former parent); they may sell through the same market channels, but don't focus on security and home automation; or they may focus on security and home-automation, but largely bypass the professional installation market and sell direct to consumers.
Here's how Monday looked for smart-home and related U.S. stocks, as well as the stock market in general.
Comparing Public Security, Smart-Home, CE Companies
Closest REZI equivalents - security and smart home products and services, sold primarily through professional installers and service providers (CEPro Home-Tech CORE)
HONEYWELL has spent the past several years upping its DIY security and smart-home game, and Resideo will continue the efforts, even using the Honeywell Home brand.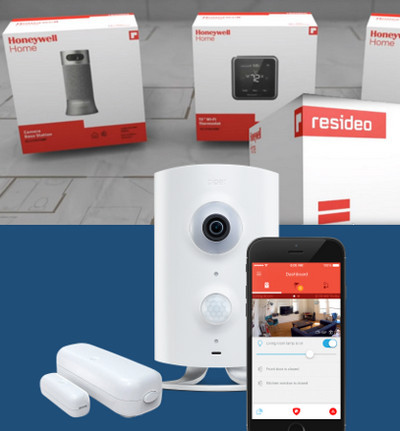 CONTROL4 swears it will never stray from its pro-channel roots - not as long as CEO Martin Plaehn is at the helm.
Channels - primarily high-volume security and smart-home dealers and installers, with some DIY, but always with an eye towards selling professional monitoring
Some light-commercial business as well
Hardware: security, home-automation and related hardware
Services: professional alarm monitoring services, cellular networks
Platform: Total Connect SHaaS (smart home as a service), integrating home automation and professionally monitored security systems - competitive with Alarm.com
Also includes ADI, the massive distributor of residential and commercial security, A/V, networking, controls, and all manner of low-voltage gear.
IPO 10/29/18 - Down 7.3% on IPO day
Channels - almost exclusively high-volume security and smart-home dealers, with some (reluctant) DIY play since it inherited Icontrol's Piper unit
Starting to enter various commercial sectors
Platform: focus on SHaaS platform, competitive with Resideo
Hardware: growing security and smart-home hardware business
IPO 6/26/2015 - Up 5% on IPO day
Channels – mid-market to high-end home-technology integrators and specialty A/V shops, with zero direct-to-consumer sales
Hardware: mainstream and higher-end home-automation, audio, video, lighting controls, access controls, networking (Pakedge) and related gear
Platforms: Ihiji for remote network monitoring and diagnostics (primarily for service providers); 4Sight for remote smart-home access and configuration (end-user tool)
Does not sell traditional alarm systems, but integrates with third-party systems
IPO 8/5/2013 – Up 7.8% on IPO day
Strong REZI competitors in pro-centric security and home-automation, but contributions diluted by corporation's other interests
ADT (NYSE: ADT) – Corp. focus on pro-oriented security (including cyber) and building controls, with strong business in residential security/smart-home installation, monitoring, and SHaaS via Alarm.com: -1.62% Monday
Napco (Nasdaq: NSSC) – Corp. focus on pro-oriented security and building controls, with strong business in residential security and home automation hardware, along with iBridge SHaaS platform: +0.44% Monday
United Technologies Corp. (NYSE: UTX) - Interlogix brand is one of REZI's top competitors, with a strong portfolio of security and home automation offerings includings its own SHaaS; however, it's just a blip in the UTX financials: -1.74% Monday
Johnson Controls (NYSE: JCI) – Building/industrial-controls giant picked up two strong REZI competitors, Qolsys and DSC, when it acquired Tyco in 2016, but like Interlogix the brands shrink under the conglomerate umbrella: -0.13% Monday
Related to REZI – smart-home solutions catering to DIY, but with a strong following among installation pros
Sonos (Nasdaq: SONO) – Whole-house music systems that integrate with home-automation systems, and are gathering built-in intelligence of their own; ostensibly sold through DIY channels, but also very popular among professional home-technology integrators. -0.41% Monday
Logitech (Nasdaq: LOGI) – Lots of DIY computer peripherals and some commercial-oriented solutions, including video collaboration. Strong smart-home portfolio including home-automation hubs and remote controls under the Harmony brand, often sold and installed by professional integrators. +0.023% Monday
Arlo Technologies (NYSE: ARLO) – Recently spun out of Netgear, and formerly "just a smart camera company," Arlo is growing its smart-home portfolio, starting with a video doorbell and security light. +3.15% Monday
Ascent Capital Group (Nasdaq: ASCMA), owner of Brinks Home Security (formerly MONI and Monitronics) - Primarily a central monitoring station and dealer program for mass-market security and smart-home pros. DIY unit (formerly LiveWatch) provides third-party security and automation systems (Qolsys hardware, Alarm.com SHaaS) for self-installation and professional monitoring. -7.52% Monday
Universal Electronics Inc. (Nasdaq: UEIC) – OEM remote-control provider for most major A/V-device brands, with back-end services for device discovery, voice control and smart-home integration; building home-automation portfolio with acquisition of Ecolink (security devices) and RCS (smart thermostats and energy management). -2.10% Monday
Stock-Market Indices on REZI IPO Day
Dow Jones Industrial Average: -0.99%
S&P 500: -0.29%
Nasdaq 100 Technology Sector: -1.39%
Dow Jones US Consumer Electronics Index: -2.34%
www.cepro.com